As I've recently announced, Gibb50 and I are working together on a co-op project that I hope to have out by the end of this year. Besides both that and Paradig 2 however, I've also begun work on a Madness short that will help fill in more gaps about Abaddon's backstory. The working title is "Artifact.FLA", but because the whole "FLA" thing is getting really repetitive I'm almost certainly gonna rename it at some point. Besides that, progress on Paradig has been a bit slow due to some HARDCORE SHENANIGANS from exterior forces seeking the collab's demise. Thankfully, things are back to normal now and it should release on-schedule.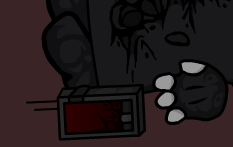 Damn.
I've also been hard at work at hammering out the rest of my custom faction's units and such. It would seem that the 'Agency Against Madness Oc's' now have some well-deserved sprites.

AAMO Agents

AAMO ATP's, there's a few other variations I have but I don't have the angles done for 'em yet.

And yes, Abaddon's finally got a completed sheet! 
Newgrounds hates high-res photos, so expect the pics above to be raped in both format and quality.